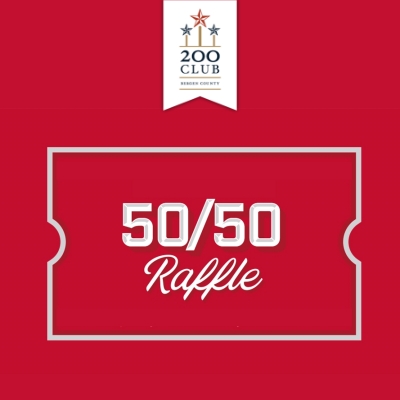 Super 50/50 Raffle
Every year the 200 Club of Bergen County holds our Super 50/50 Raffle. Since the COVID-19 Pandemic, this is the only fundraiser that we have been able to hold. From March of 2020 to now, the Club and our office have remained opened and running. We received a number of requests from departments throughout our County for help, which we were able to do. In 2020, We were also able to award Scholarships to graduating high school seniors. The Appropriations Program was also proud to approve and fund a number of grants that went to departments throughout our County.
We know that these are different times, and it is no longer "business as usual" but, the 200 Club of Bergen County will do all that we can to continue our mission to be there for the men and women who proudly serve us in Law Enforcement, Fire and Emergency Medical Services.
Please support our Super 50/50Raffle. Every ticket sold makes a difference. Tickets can be purchased online (see below) or you may also call our office at (201) 229-0600 to purchase. Your tickets will then be mailed to you. The drawing will be at our Valor Dinner on Wednesday, October 6th, 2021. You do not need to be present for the drawing.
Raffle Prize – 50% of Tickets Sold – Up to $25,000
$100.00 per ticket
There are three (3) place winners in which you can win:

1st prize 30% of Winnings up to  $15,000
2nd prize 14% of Winnings up to $7,000
3rd prize 6% of Winnings up to $3,000
The prize money is based on all 500 tickets sold.